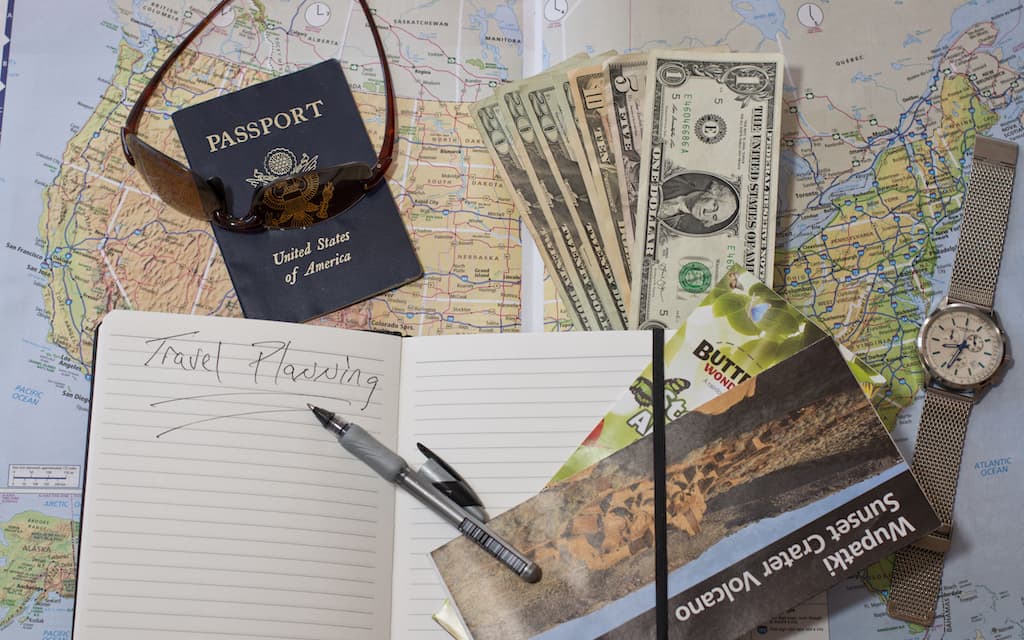 We are a big fan of checklists. We have several travel checklists that we use to make sure that we are prepared and don't forget anything before going on a trip. If you are traveling internationally for the first time or just want to be sure you don't forget anything important before your next international trip here is a list of essential things to do before international travel:
Checklist for International Travel- Necessary Things to Do Before Traveling Abroad:
1. Make sure you have your PASSPORT
If you have a passport please make sure you check the expiration date of your passport and whether there are any blank pages remaining. This is critical because the country you are traveling to will need to be able to stamp one of your passport pages. Also, check that your passport does not expire less than six months before your return date.
2. Check VISA requirements
Check the visa requirements for the country you are traveling to. You can do this on google by visiting the countrys consulate home page.
3. Know if you will need vaccines or pills
If you are traveling to a less developed country visit the CDC's traveler's health page https://wwwnc.cdc.gov/travel/destinations/list/ (hyperlink) and check which vaccines or medications are recommended. According to the CDC website it is recommended you get baccines or medicines at least four weeks before your trip as it takes some time for some vaccines to become effective. You can get vaccinated at your closest travel clinic.
4. Make sure you have your travel ADAPTOR if needed
You will more than likely need an adapter plug in order to use your electronics in another country. We actually purchased two adapters like this one on Amazon https://www.amazon.com/Adapter-Worldwide-Universal Adaptor- Charging/dp/B01DJ140LQ/ref=sr_1_3 crid=3RCGDE71XC5D1&keywords=mingtong+travel+adap ter&qid=1555015921&s=gateway&sprefix=mingtong+t%2Caps%2C174&sr=8-3 (hyperlink) because it is a universal all in one adaptor for frequent international travelers.
5. Have a travel credit card or debit card
We always take 2 debit cards to get cash if needed and 2 credit cards. We like to have 2 of each just in case one is stolen, lost, or the bank puts a hold on the account. Before leaving for your international trip make sure all of your card holder companies know when and where you will be going so they won't put your account on hold due to suspicious activity. If you plan to use a credit card abroad make sure you have one that does not charge foreign transaction fees. Of course our favorite credit card is Chase Sapphire Reserve https://creditcards.chase.com/rewards-credit-cards/chase-sapphire-reserve because it has no foreign transaction fees and earns triple points on travel purchases.
6. Know your options for cellular usage internationally
If you have a cell phone provider and want to use your cell phone make sure you check prices to call, text, and use data from abroad. You might be able to sign up for an affordable international plan to lower costs. Most of the time we use apps that allow free calls or texts like: Skype, Whatsapp, Viper, etc. If you are going the app route make sure you sign up and download any apps before you leave abroad.
7. Print and share itinerary, hotel, flight, copy of passport, copy of visa, and other additional confirmations
We like to print a hard copy of our flight and hotel e-mail confirmations that way we don't have to rely on wi-fi or data plan working to pull up any reservations. It is recommended to have a paper version of your confirmations in case immigration officers requests a copy of your plans as this has happened to us more than once. Always, always, always make a copy of your first passport page and visa to email it to yourself (or store in dropbox). This is critical because if your  passport is stolen or lost while in another country it will be easier to replace and get out of the country if you have a copy. We also recommend sharing a copy of your passport and your plans with a friend or family member in case of emergencies.
8. Register with your embassy or consulate
Register with your embassy or consulate as this will let your government know your location in case of emergencies. Also, it is highly recommended to print out the address and contact information of the local embassy.
9. Don't forget your MEDICINE
Kind of OCD when it comes to this we actually have checklist of medications to take when traveling abroad because you just never know if the country you are visiting will have the proper medications should you get ill. We highly recommend taking a small first aid kit and a small bag of "just in case" medications.
10. Put your mail on HOLD
If you are gone for over four consecutive days you might want to consider contacting your local post office to hold your mail. You would hate for someone to steal two weeks' worth of mail or for your mailbox to get to full.
ABOUT WEPACKTWOFLY
WePackTwoFly is a site by Kimmie and Niyi, a couple of bucket listers who love to explore the world and capture every moment.