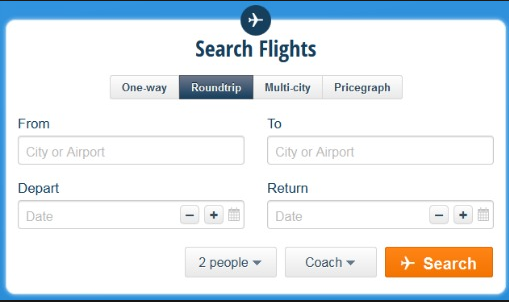 The number one question we get asked is always on how to find cheap flights. We have found that saving money on flights takes a certain skill. We have heard all of the myths about certain times of the night and day when it comes to finding cheap flights. Of course you have your standard big name search engines Kayak, Orbitz, Expedia, Hotwire, etc. Nowadays you can google cheap flights and find over 100 travel apps and websites (yea super overwhelming) but only a handful are really the best for finding the cheapest flight airfares.
Here are five flight search engines that we use the most and have used repeatedly with great success:
One of the best features about Hopper is flex watch. Flex watch allows you to be as specific or as broad in your flight search as you want. For example, you can type in anytime and anywhere in the search engine and see what pops up. Or, if you need specific information for New York in two months you can search "New York, next few months."
We really love the Hopper app because it gives us a heads up about which cities around the world will have dropping airfares in the next couple of months. We actually used Hopper to book our most recent flight to Japan. With Hopper you can sign up for alerts for your chosen
dates and destination.
We came across Momondo about 5 years ago on the web. Think of Momondo as this huge net that spans across the world. They have around 700+ sources to find flights which is probably about quadruple of what most flight search engines use. It is safe to say that Momondo is always a search engine that we use for every flight search because of the wide span search engine.
We have used Momondo to book flights numerous times. They are not affiliated with any airlines or travel partners that we know of. They also aren't one of those sites asking you to sign up for everything under the sun. We have noticed that Momondo comes up with the cheapest fares at least 90% of the time on our searches. With Momondo you can't book directly through them, it gives you a booking link. On average we have found flights to be $15-20 cheaper with Momondo.



For budget travelers we have found the everywhere skyscanner feature to be invaluable. You can literally pick anywhere in the world as your destination and search for the cheapest fares worldwide. The skyscanner app sends us alerts when prices drop for specific destinations. Our favorite feature is that you can see at a glance prices for an entire month, so it's easy to book on the cheapest days if you have the flexibility in your schedule. This feature allows us to choose our vacation dates before requesting time off from work. Basically, get the best rate then travel on the best date ha!
Two words, layover requests. Many travelers often times want to see another city for a day on the way to another final destination. With scanner you can search for flights with layovers in particular places. Say you want to fly to Croatia, with a layover in Paris. Sometimes it's cheaper to layover in, say Paris, and you don't know that. The flight deal feature will show you those kinds of deals exist. It actually is one of the very few search engines that allows you to decide where you want to layover and compare layovers in different cities. If users sign up for the newsletter you will receive notification of the best deals from your home airport.
Hey Google lol! With Google flights they have this button called "I'm Feeling Lucky". Basically you tell Google where you want to depart from and then you pick an area on a map and Google will pick the destination for you based on your search. We noticed that Orbitz and Google flights were similar so after some in research we discovered that Orbitz and Kayak use the same software but Google is faster. Google flights is very user-friendly as they offer maps that actually show airfares to different locations within a region and our favorite monthly calendar that lists prices listed for each date usually in blue. The "best deal" is another great feature from google flights as it suggest other airports and travel dates to save travelers money.
A few years ago Scott Keyes started tracking mistake fares at an extremely low price. He started an email newsletter to share with his friends the cheap flights he was finding and that newsletter grew into a million dollar business. What a story right! We first heard about Scott's Cheap Flights through a friend and discovered that we were overpaying for international flights by nearly double. Every week we are those subscribers who eagerly await notice on our gmails from Scott's team with instructions about how and when to book flights to the most beautiful international destinations in the world. To date we have saved over $10,000 in the last three years on cheap flight deals from Scotts Cheap Flights. With Scott's cheap flights you can select which regional airports you want to be notified about for flight deals. I know the idea of having to pay for a newsletter freaks some people out but honestly it is the best $39 per year you will ever spend and you get your money back with the purchase of just one flight per year. There is a free version of the newsletter (doesn't give you as many cheap flight notifications) and a premium paid version. From our experience the premium paid version is the way to go and definitely worth it.
ABOUT WEPACKTWOFLY
WePackTwoFly is a site by Kimmie and Niyi, a couple of bucket listers who love to explore the world and capture every moment.