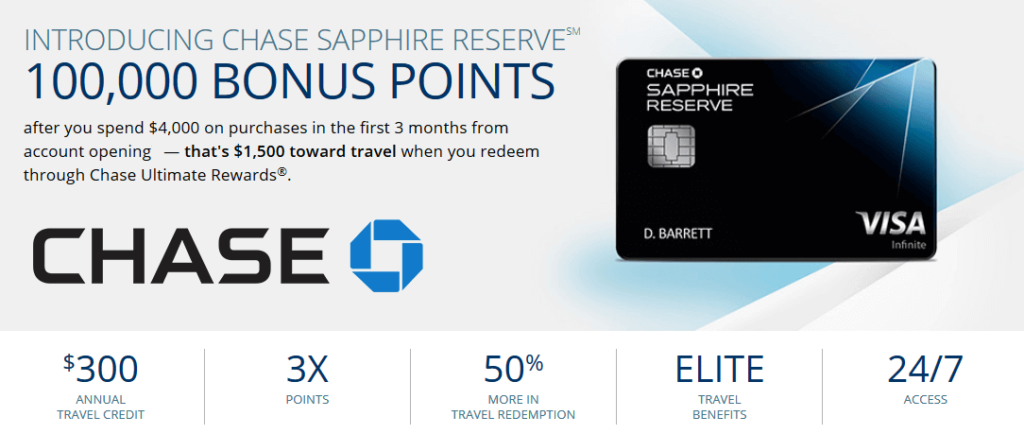 If you are travel lover you are more than likely always looking for ways to travel while spending the least amount of money as possible. More than two years ago we discovered the Chase Sapphire Reserve card. In the world of travel credit cards the Sapphire Reserve is ranked among the top three.
Below is everything we know that you need to know about the Chase Sapphire Reserve benefits and rewards. Thank us later!
What are the perks?
The annual fee is $450.00USD. I know most people probably think that is very steep when first hearing of the cost but trust me the benefits and rewards more than cover the annual fee cost in the long run. You actually get $300 credited to your account for travel and hotel so in reality the fee is $150 annually. When you first open your Chase Sapphire Reserve credit card account you'll get a sign up bonus of 50,000 (sometimes they run deals for 100k points) if you spend $4,000 on the card in the first three months of having it. For us this was easy to do as we just paid our bills the first three months with the card and paid off the card every billing cycle so basically using it as a debit card because you don't want to get stuck paying the interest on the card. One of the many great things about this card is that you get three points per dollar on travel and dining expenses. You also get one point per dollar on all other expenses charged on the card.
Isn't it annoying when after a vacation you check your credit card billing  statement and see a million transaction fees? Well to our surprise the Chase Sapphire Reserve has NO foreign transaction fees. We no longer worry about those surprise fees when we return from vacation. Our favorite perk about the Chase Sapphire Reserve is the complimentary membership to Priority Pass Select. This gives cardholders access to over 1000 airport lounges around the world. We can't tell you how great it is to walk into any airport and go straight to the Priority lounge at no cost instead of waiting near the boarding gate.Chase Sapphire Reserve cardholders get a $100 credit toward Global Entry and/or TSA Pre-Check. The card includes primary rental car insurance, coverage for trip cancellations, and reimbursement for lost luggage. What more can you ask for.
How do we use the points?
Keep in mind that your points transfer at a 1:1 ratio to all of Chase's travel partners. You can redeem your points for travel through Chase Ultimate Awards directly, with an airline, or hotel. Unlike most mileage rewards programs for airlines, Chase's points function like cash so you are unlikely to run into blackout dates or other restrictions. Keep in mind that points can only be transferred in thousand-dollar increments but that shouldn't be a problem because most cardholders want to save up to reap big rewards. Trust us the points add up fast.
Send us a message if you want more information about the Chase Sapphire Reserve credit card. Good Luck!
ABOUT WEPACKTWOFLY
WePackTwoFly is a site by Kimmie and Niyi, a couple of bucket listers who love to explore the world and capture every moment.