What can we not say about Santorini our favorite island destination? If you are visiting Santorini for the first time and are trying to decide on the best place to stay on the island then it is important to first understand the geography of this gorgeous island. Santorini is only 95 square meters in size, and the coastline is about 69 meters. The really cool thing that most tourists find out when visiting the island is that Santorini is a volcanic island and has a semi-circular shape on one side which is referred to as the Caldera.  The Caldera stretches all the way from the most south-westerly point called Akrotiri to the most north-westerly point called Oia.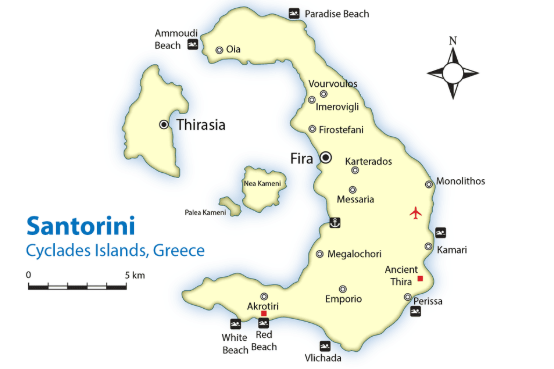 Where to stay
If you can afford it, we recommend first-timers to stay on the caldera edge to experience the full 'WOW' factor. The areas of Oia, Imerovigli, Fira, and Firostefani all have accommodations with whitewashed boutique interiors, infinity pools, and terraces that will be sure to get you the perfect Instagram post. For budget-conscious travelers the Caldera view accommodations comes at a premium. There are decent midrange options in Fira and Firostefani which is away from the front row landscapes. If looking for even lower accommodation prices there are hostels and budget friendly accommodations on the outskirts of Fira.
If you are the kind of tourists that is interested in beaches or activities stay in Perissa or Kamari. The up side to this is you will definitely escape the Caldera crowds and more reasonable prices.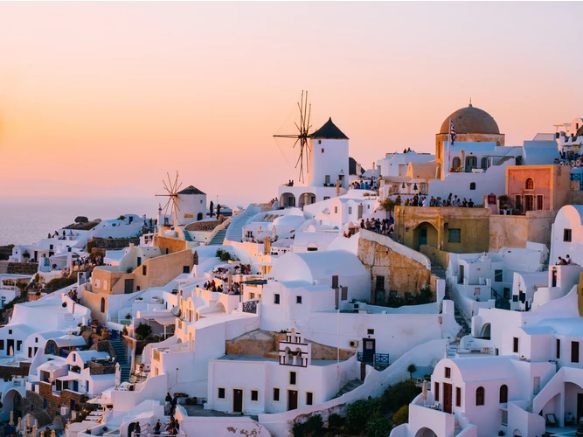 What to do
Walks: The first thing we did after we put our luggage down was walk. This is the best activity for tourists that we recommend because you get a chance to walk the Caldera edge and admire the most amazing views straight out of a magazine. Not to mention this is a free activity for those on a tight budget. The walks in and around Fira are absolutely breathtaking particularly heading north closer to Imerovigli along the Caldera edge pathway. If you continue to walk north you will reach Oia but please beware that the trail beyond Imerovigli can be a long one ranging from three to four hours. Also, please keep in mind that Santorini is filled with steps so pack extremely light and come prepared with comfortable shoes. You will see many stray animals along your walk on the island as the locals love dogs and cats.
Wine-tasting:  Santorini has about a dozen or more local vineyards that actually host tastings (small charge). How amazing is that to sip local wine with the beautiful Caldera scenery and local produce. The best place to start your wine tasting adventure is at Santorini's cooperative of grape-growers, a large tourist-focused complex on the caldera edge near the port. The location has short tours of the production process (how cool) and lots of tasting options. Not to mention the views, wine bar, and gourmet local products.
Scuba Diving: Yes, Santorini has breathtaking sunsets and whitewashed houses in the villages but if you love to explore the deep you would not want to miss out on a chance to check out the scuba diving scene on the island. How many people can say they went scuba diving in the Caldera? Our scuba diving experience was our favorite thing to do on the island. It was near the end of season so we were lucky to seize the opportunity to a private scuba dive with a guide. Most scuba diving companies will pick you up and drop you off near your accommodation as it comes with the booking fee. The average scuba diving fee for two is around 90 euro but many times diving centers have discounts if you ask when booking. Keep in mind that Santorini is an island formed from a volcano, making their marine life more unique and interesting from other dive site locations.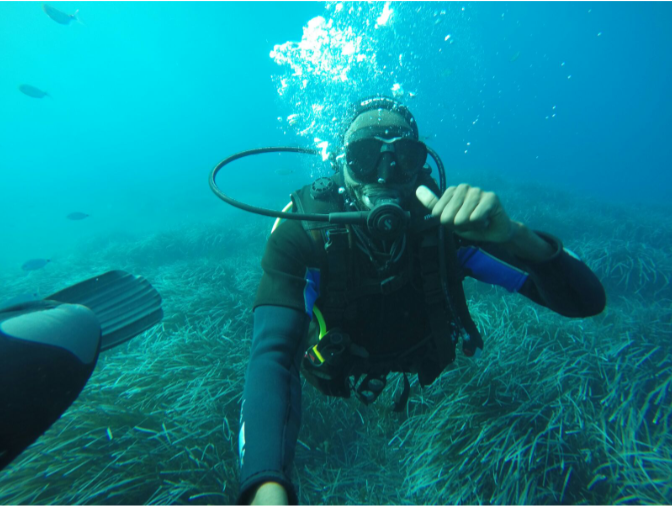 Sunsets: Come sundown you will start to see the crowds come out in droves as many are wanting to see the beauty of nature on display. The prime location for sunset viewing is in Oia. This is where we saw the most spectacular views of the sunset. A Santorini sunset should be on
everyone's bucket list as it is an unbelievable site.
Tours: Santorini has many agencies ready to help with tourists needs. We went through an agency for our scuba diving and Caldera boat ride experience. The most popular tour in which we highly recommend is the cruise. Most cruises are all day and come with food, stops along the Nea Kameni and Palia Kameni islands but the best part of all you get a chance to scuba dive in the hot springs. Most cruises are on average 90 euro for two but most agencies have discounts for cruises upon request.
Surprises: Of course Santorini has views that will have your jaw dropping but here are some of the surprises we found along the way while exploring: open air cinema, awesome microbrewery, wine caverns, cooking classes, cable cars down the Caldera, donkey rides up the Caldera, four wheeler rentals, and most importantly some of the best seafood ever!
When to go
We were advised to never visit the island from June-August as this is peak season time. Meaning this is the time where the most tourists visit the island and more than likely the most expensive time to travel. If you are looking to travel on a budget we recommend visiting Santorini during the shoulder season months of April, May, September, and October. Keep in mind that Santorini is currently working on arranging itself as a year round destination.



ABOUT WEPACKTWOFLY
WePackTwoFly is a site by Kimmie and Niyi, a couple of bucket listers who love to explore the world and capture every moment.