One of Las Vegas's largest and well known landmarks, soaring towers, and ancient Roman themes make Caesars Palace one of the most sought after resort casinos in the world. We first realized we had to add Caesars Palace to our bucket list after the movie Hangover in 2009. Of course we couldn't help but remember all of the funny scenes from the movie that were shot in Caesars Palace and kept thinking how lucky enough we were to be staying in one of Vegas's top resort hotels.
FIRST IMPRESSIONS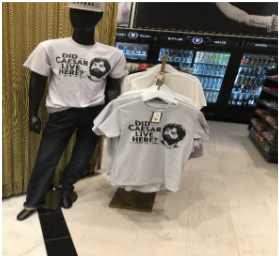 The beautiful ancient Rome entrance in Caesars Palace was something we've never seen before in a hotel. As guests we had a short walk to the check- in area just to the left of the front doors. Our check in was short and smooth thanks to the very attentive front desk host. It was interesting to see the various ancient Rome themes infused into every surface of the hotel from the beautiful columns and statues down every hallway to the Roman Gods painted on every elevator door. It took hardly no time for us to realize just how massive Caesars Palace was. Guests have the luxury of choosing room types from a wide selection of towers: Julius, Palace, Forum, Augustus, and Octavius. We had the privilege of staying in the Palace Tower suite. The more and more we walked the resort the more it reminded us of being back in Rome and was the epitome of grand elegance. Although we visited in spring, we could just imagine how the hotel would provide the perfect luxury retreat for a summer vacation.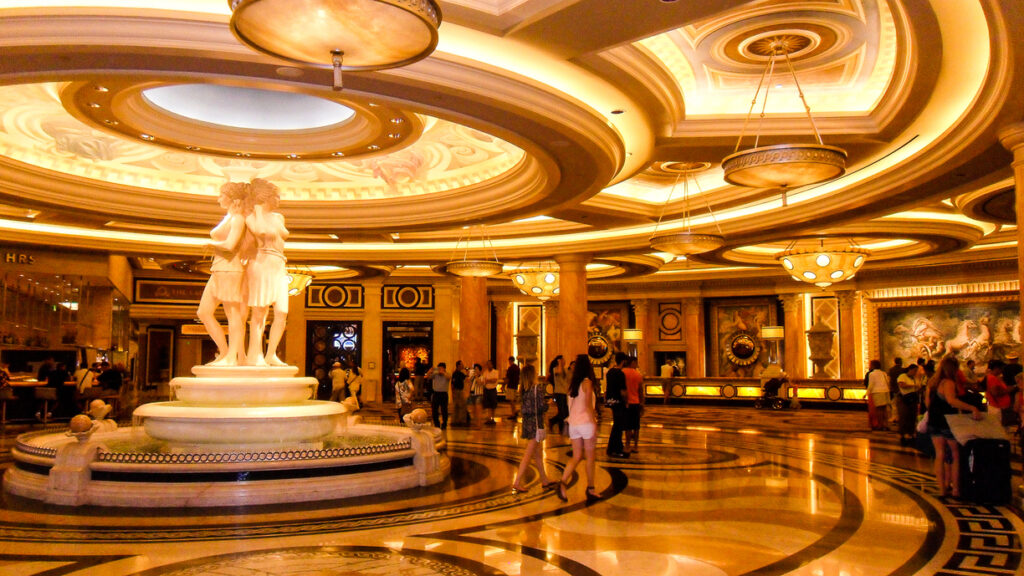 THE ROOM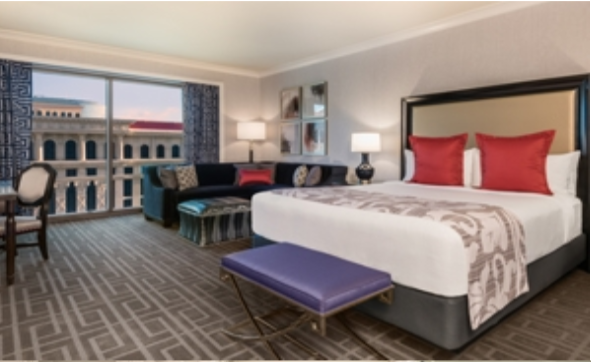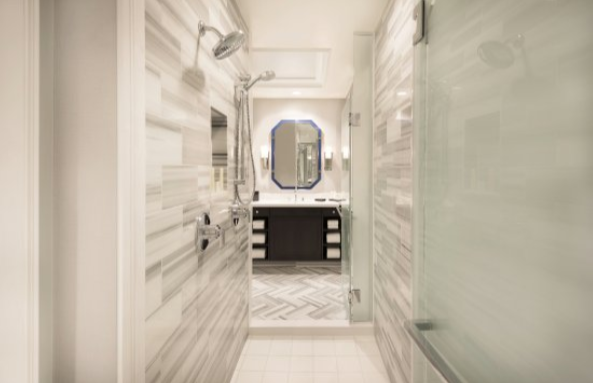 One of our favorite moments when visiting a new hotel is stepping into the room for the first time, and Caesars Palace certainly didn't disappoint. The Palace tower suite was modern and comfortable with stone and glass double restrooms, warm color scheme, comfortable bed, and a large window that overlooked the seven YES seven pools at the Garden of the Gods Pool Oasis. The pool view from our room was breathtaking to wake up to every morning. Garden of the Gods Pool Oasis area is home to several gardens, which are free to access for pool guests and $20 for non-hotel guests. We suggest you reserve a cabana if you can get it early as the area can get a bit crowded on warm afternoons. Like many others, we always think the actual room décor is a true hallmark of a hotel and a great way to measure the level of luxury. Our room was an example of immaculate attention to detail that runs throughout the entire resort. We were so amazed by our suite and how friendly and punctual room service was. Needless to say it was difficult to leave our awesome room daily to experience other hotel amenities.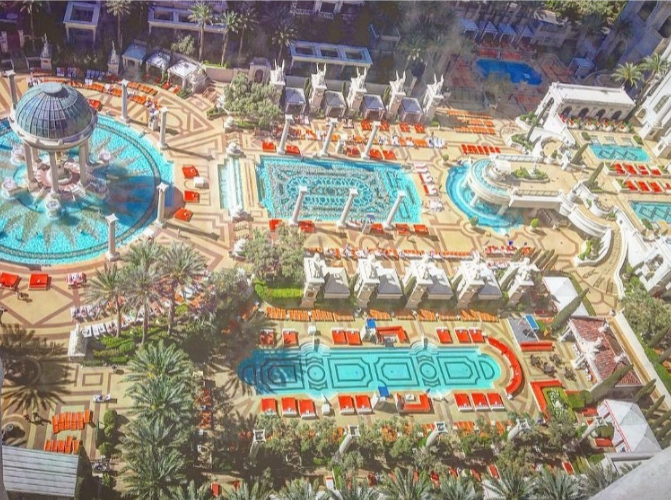 THE FOOD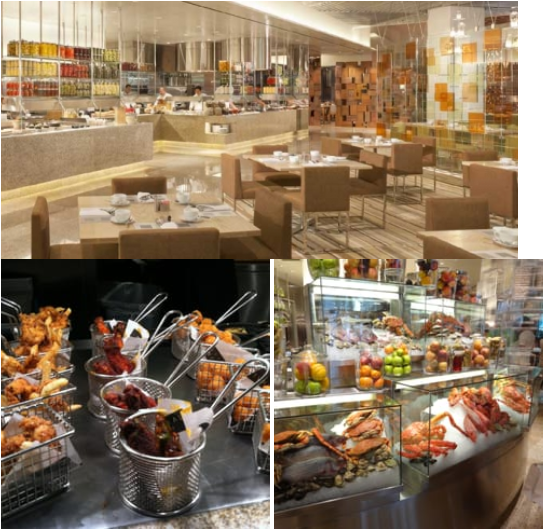 When it came to the food offerings, Caesars Palace came second to none. Firstly, let us start with the Bacchanal buffet. We have never seen such an incredible buffet in all our years of hotel stays! What made it so incredible? The 500+ food selection options to choose from including a seafood station, meat carving station, taco station, pizza, pasta, sushi, desserts galore, and a host of other options. We recommend trying as many desserts as possible as they were all mouthwatering. The Bacchanal buffet is one of the largest buffets not only in Las Vegas but in America.
Although we didn't get to try all of the restaurants at the resort Caesars has a number of food options to choose from that includes an amazing food court. For more of a casual restaurant feel guests can choose from Beijing Noodle No. 9, Gordon Ramsay Pub & Grill, or the famous Hell's Kitchen located in a separate structure outside of the hotel. If guests are looking for more of an upscale dinner there definitely is no shortage of options including Nobu, Rao's, Mr. Chow's, Guy Savoy, Vanderpump Vegas, and several other choices. Not to mention if guests are looking for a great nightlife experience Omnia
delivers on all fronts.
 THE SHOPPING MALL
There is obviously a lot to do at Caesars besides gamble as one can easily spend an entire day without leaving the resort and be thoroughly entertained. The Forum Shops is a massive shopping mall, home to more than 150 stores, the majority are luxury brands. You'll also find plenty of restaurants at the Shops, including Cheesecake Factory, Il Mulino, Sushi Roku, and The Palm. We were totally blown away by the architectural beauty at the Shops. We quickly realized why the mall is called "The Shopping Wonder of the World" as this definitely should be on your list of to dos when visiting Las Vegas.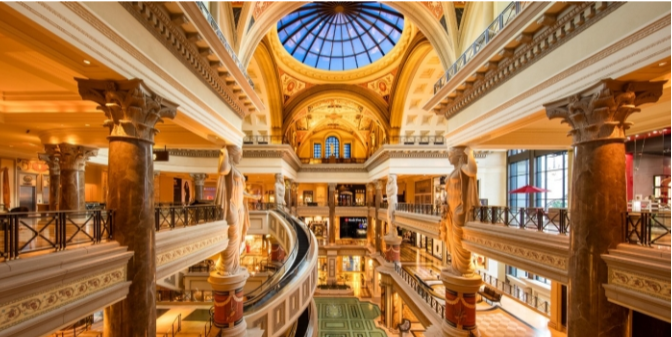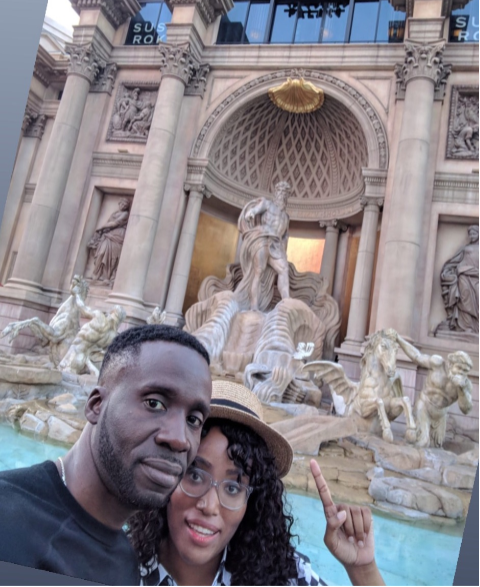 THE VERDICT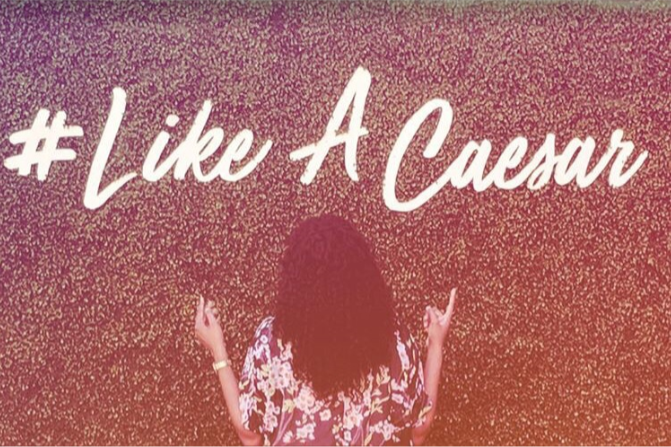 So the verdict, we think you can guess, is a resounding thumbs up. Our stay at Caesars Palace Las Vegas Resort and Casino was absolutely flawless from start to finish. We left feeling totally relaxed and rejuvenated. The service, hospitality, facilities, food, and rooms bring you the ultimate in Ancient Roman luxury and we would recommend the resort to anyone looking for a unique Vegas resort.
Thank you to the team at Caesars Palace Las Vegas Resort and Casino for your outstanding hospitality.
What did you think of our Caesars Palace review? Are you thinking of visiting yourself? If you enjoyed our post or have any more questions about the hotel, please leave us a comment at contact us.
ABOUT WEPACKTWOFLY
WePackTwoFly is a site by Kimmie and Niyi, a couple of bucket listers who love to explore the world and capture every moment.